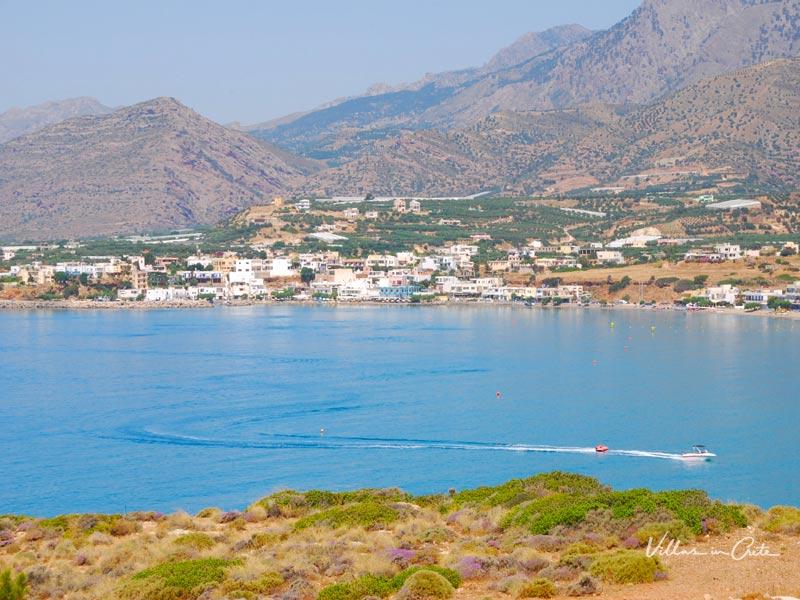 Located about 60 km south of Agios Nikolaos and 20 km east of Ierapetra you will find one of the most popular villages to visit, the result of two communities that merged into one, Makrigialos. True to its name (Makrigialos literally means "long beach") you will find beautiful, picturesque beaches against a handsome mountainous backdrop. The biggest beach, also called Hani by the locals, is lined with free amenities such as umbrellas and sunbeds for you to enjoy its golden sand. If you have young children, feel like an off-season swim or you generally don't feel like challenging your swimming skills, this is the beach for you as it has adequately shallow waters that stay warm even during winter. It's quiet and cosy, with a small bay and sand beach, perfect for fishing and relaxation.
  The village of Makrigialos itself, despite the development offering you a vast array of tavernas and assorted types of accommodation, remains authentic and true to its local colors unlike other seaside Cretan villages: with the backdrop of beautiful rolling hills and soft skies, it will inspire you to make it the frame for quality time or relaxation on your own or with your family. And if you have an interest in history, you will have the chance of visiting the ancient Minoan villa nearby, that looks like a miniature of the famous intricate Minoan palaces.
 If you prefer a walk off the beaten path, but still keep it to the seaside, there is a beach not too far away for you to discover west of the village- Kalamokanias beach has the perfect sand for foot massage, coarse and abundant. Or you can stay on the main path of Makrigialos and at the edge of its main long beach, you will find another smaller one, very sandy as well and very well-organized, by the name of Katovigli.
  Katovigli will not only satisfy your needs for beautiful beaches and excellent amenities, but also add the flair of history with its Roman ruins nearby which are unique to Crete. You will have the opportunity to admire what is left of Roman luxury such as the beautiful mosaic floors and its assorted rooms and baths.
If you have a bigger appetite for antiquities and visiting ancient ruins, then a boat ride to the island of Koufonisi is for you: there you will find, aside the pretty beaches and more than abundant places to eat, an ancient Roman factory producing imperial fabric dyes awaits your perusal.
And if you need more than just the seaside and a postcard-pretty beach, Makrigialos has you covered too: beautiful gorges and breathtaking overlooking are waiting to be explored, their beauty on par with other famous such places such as the renowned Samaria Gorge. You will have a chance to enjoy various hiking routes through them, and set out on a journey of exploration and discovery through various little hidden beaches and bays, hidden just for you to find.
In perfect combination, you also have a chance to walk through beautiful pine forests just above or near Makrigialos in the mountains, in such villages as Skinokapsa and Orino. There is also the picturesque monastery of Kapsa to visit, with great view and architecture to enjoy.
Makrigialos is extremely versatile. There is really something for everyone, including night life and a vast array of restaurants, tavernas and hotels to suit every fancy. If you find yourself in Crete, visiting Makrigialos or even making it your base of vacation operations is a must.
[This article is subject to copyright unless specifically stated otherwise. You may not copy, store, share or redistribute any content by any means mechanical or electronic without the express written consent of the copyright owner.]