Yuri Gagarin`s Park inaugurated today in Heraklion, Crete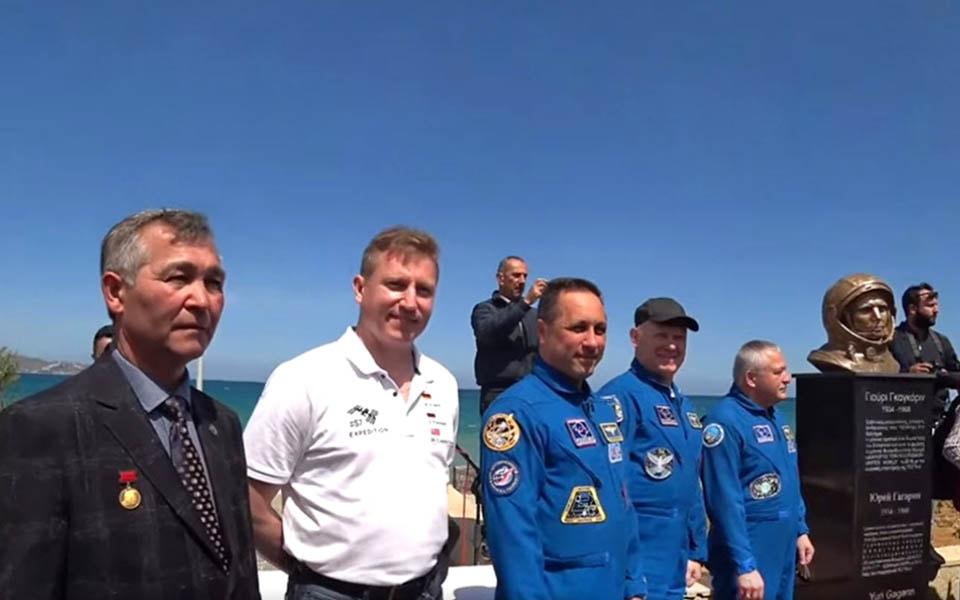 What is intended to be a symbol for peace and cooperation among peoples was inaugurated today, April 14, 2019, in Karavolas of Heraklion Crete: a municipal park named after Yuri Gagarin. The ceremony honoured cosmonauts Fyodor Nikolayevich Yurchikhin, of Greek descent, Anton Shkaplerov, Oleg Artemyev and Sergei Prokofiev who participated and recuperated via special restitution programs for cosmonauts post-mission, in Crete and several other places in Greece.
This isn't just any simple park- there are several parks around the world named after the legendary cosmonaut, in honour of science, peace and cooperation. These parks become international sightseeing sights with global scope for learning and inspiration of youth to come into the world of science as well as nature, along with messages of humanitarianism and nations coming together for a common goal.
And as we've described in previous posts, there is indeed great cooperation taking place between Greece and the cosmonauts across the world who come to Crete, and especially in Heraklion, to recuperate from their missions in space thanks to the excellent climate, beauty and hospitality in Crete and other places in Greece that have special restitution programs for cosmonauts.
These programs have been running in Crete, Attica, Evia and Chalkidiki since 2015 under the auspices of the ministry of Tourism and the Russian Geographical Society.
Yuri Gagarin had a tradition of planting a tree on the eve of each of his missions to space. This tradition is now going to be upheld by every cosmonaut that comes to recuperate in Greece- they will be planting an olive tree in the Cretan Yuri Gagarin park, progressively making an olive grove symbolizing the several missions from which the cosmonauts will have recuperated in Greece before going back to advance science.
Why plant only olive trees in the Cretan Yuri Gagarin park?
Because the olive tree is the symbolic tree of Greece, as well as the symbol for peace and noble contests. Each of the trees in the Yuri Gagarin park in Crete will carry a plaque with the name of the cosmonaut that planted it and a QR code.
And thus today was created another worthy, beautiful site for everyone to visit, combining Crete's beauty, the quest for knowledge and an ode to science and human cooperation.
Notice:
[This article is subject to copyright unless specifically stated otherwise. You may not copy, store, share or redistribute any content by any means mechanical or electronic without the express written consent of the copyright owner.]