The coastal town of Georgoupolis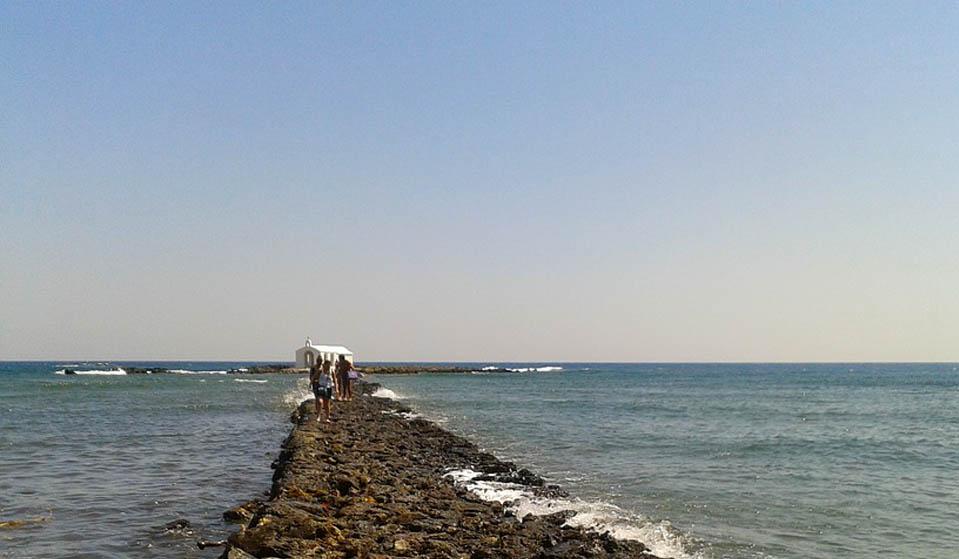 About 35 km from Chania and 20 km from Rethimnon, you will find the coastal town of Georgoupolis.
It sports a large sandy beach and sits in the delta of Almiros river. Driving to Georgoupolis is like driving through a landscape painting, with picturesque views of rolling hills and slopes meeting the glittering sea, with the imposing Cretan mountains flirting the skies. The river Almiros crosses the town and your drive will end at the town square, via the beautiful road lined with cypress and eucalyptus trees.
Georgoupolis is quite touristy, as tourism is one of the main occupations of the locals alongside beekeeping and agriculture. You will find an abundance of restaurants and tavernas to cater to your tastes and take romantic strolls at the beautiful Georgoupolis harbor. Don't forget to visit the highlight of the town, the beautiful little church of St. Nikolas: as it's built at the end of a small pier, it gives you the feeling that it's been built on the very surface of the sea.
Georgoupolis will satisfy all your needs for adventure, exploration, culture and relaxation: apart from its long and somewhat organized at places beach, you have the opportunity of visiting the only freshwater lake of Crete, lake Kournas. Stand barefoot in its waters and allow the tiny fish to treat your feet, as you admire how the White Mountains are mirrored in it, or explore it further with your friends and family by pedalo, readily available by shops at its shore!
Georgoupolis and the areas around it have been inhabited since Minoan times- so there are ruins and sights to see from almost all the eras of history, from a Minoan tomb in Kastellos hill to a damaged Turkish fort from medieval times.
If you are into explorations of nature, habitats and ecology, you will be delighted with Almiros wetland. A much vaster area of the place used to be marshlands in the past, until in the 19th century they were dried up to shield people from malaria and make for more fields of the fertile lands. Since, Almiros wetland remains and is a WWF-protected home to several rare species of animals such as water turtles water fowls of many kinds.
[This article is subject to copyright unless specifically stated otherwise. You may not copy, store, share or redistribute any content by any means mechanical or electronic without the express written consent of the copyright owner.]